Will your Fitbit affect your chance of getting health coverage?
February 28, 2017
Since it's rise in popularity in 2014, coined the "Year of the Wearable" by many tech publications and experts, wearable technology has become the new trend tying together health and fitness and technology. According to CMO, wearable technology is a $700 million industry today, and provides various benefits for health and productivity. Whether you prefer a Fitbit, a Nike Fuel Band, or some other type of wearable gadget, you may actually be affecting the outcome of your health insurance coverage.
Recently, a program offered by United Healthcare allows you to earn some cash from your health insurance company simply by wearing a Fitbit activity tracker and sharing the data with the insurance company and another company, Qualcomm Life, that processes medical data from wireless sensors for insurance companies and medical professionals. Depending how active the participants are, they could earn as much as $1,500 toward health care services a year based on their Fitbit activity. Many other programs similar to this are offered.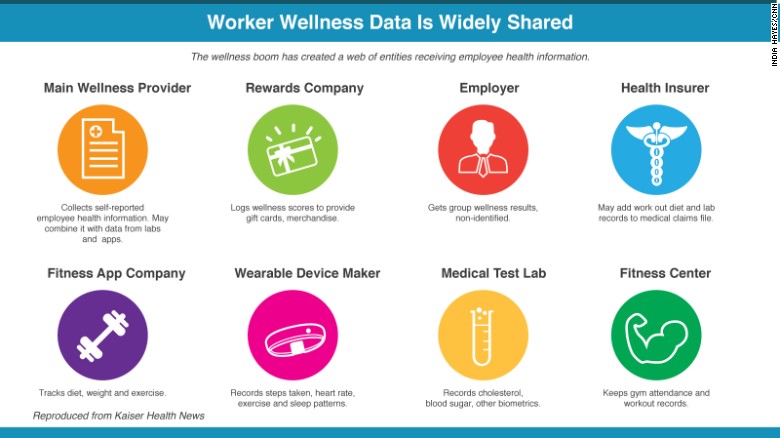 Wearable technology already is able to track our fitness and health everyday by measuring different metrics such as calorie intake, steps taken, flights climbed, sleep patterns, running activity, and more. This is just the start. Researchers and partnering companies are already looking at new sensors that could be packed in wearables, which would allow us to tap into even more biometrics and give us a deeper look into the physiological states of our bodies. For example, you will soon be able to measure your body fat without stepping onto a scale or monitor your core body temperature while you are out and about.
In addition to this, there is more talk about using Fitbit for a "diagnosis by device" method. Pairing a wearable fitness tracker with health data can allow medical professionals to be able to catch on to potential health hazards quicker. For example, existing flu treatment medication works best when administered within 24 hours of onset symptoms. However, it is very difficult to catch the flu so quickly. A wearable device such as a Fitbit could make this much easier. The device may measure a sudden decrease in the number of steps taken per day and pair it with an elevated resting heart rate that could together signal the presence of a virus.
Going beyond tracking, these wearable devices could also be used to alert the wearer on the changes in the biometrics, and could direct the individual to go to a doctor or an urgent care clinic if the metrics indicate a potential health issue.
But what does all of this mean in terms of your health insurance? Allowing companies to track your daily fitness activity and biometrics allows them to have regularly updated access to your health measurements. Although this definitely can be used to help patients, it can also harm them.
Since the Affordable Care Act began, insurance companies were restricted from denying coverage to individuals with preexisting medical conditions at the time they signed up for insurance. However, with a newly elected president that rule may very likely be lifted by Republicans in Congress.
If this happens, insurers may look to wearable devices for evidence of conditions that may exclude them from coverage. According to the Centers for Medicare and Medicaid Service, nearly 50% of all Americans have some sort of condition that can be used to deny them of coverage such as asthma, cancer, or mental illness. Similar strategies are used by car insurance companies who provide customers with devices to install in their car to measure various metrics and risks of the driver.
As a consumer, it is important for you to know both the benefits and risks associated with these wearable device programs and incentives. Although it can help individual patients change their daily habits to become healthier, it should not be assumed the insurance companies will use the data only to improve patient care. The devices could provide justification for denying coverage or boosting insurance rates which both can be very tempting to insurance companies.
Contributor: Smruthi Sriram