Travel Insurance: Common Travel Scenarios and What you Should Do
June 30, 2016
Vacation is the time to forget about work and any problems you are facing and have fun, explore new places and relax. Let's keep it that way! Travel insurance can cover many unpredictable situations, accidents and losses while traveling or on vacation. Consider getting travel insurance if you haven't already before your next vacation or travel excursion. Here are some common scenarios you may encounter while traveling along with tips and information on how to deal with the situations.
You get sick or injure yourself
Even when we are on vacation, we are not immune to illnesses or accidents. Despite our best wishes, it IS possible and likely to get sick or injured on vacation.
What you should do: Your first priority should be to take care of yourself and your health. Seek medical care immediately if it's an emergency. If it is not a serious case, it is a good idea to contact us or your insurance carrier  before paying for any type of treatment to see if there is a guarantee of payment that can be organized for you.
Tip: Make sure you keep all your receipts, reports and medical advice after treatment. You will need these for your claim to approved.

You get robbed 
It is a very unfortunate and common incident when our valuables such as wallets, purses, credit cards, passports, electronics, or jewelry are stolen or pick-pocketed on vacation.
What you should do: You should report any thefts to the local police within 24 hours and ask them for an official police report. Contact us at your at your earliest convenience to make a claim. We can help you get in touch with the local consulate to replace any important documents in the case that something critical was stolen such as a passport. 
Tip: Make sure your insurance policy covers your belongings and valuables you are taking on your trip.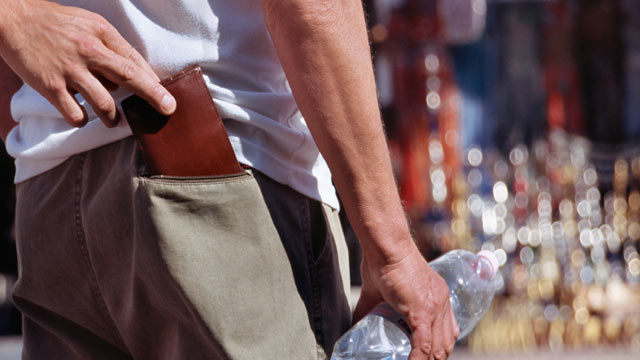 Riots breaks out near you
Often when you are traveling and visiting crowded or high-in-tourism areas, it is likely that a riot or protest will break out near you. It is important that you do not get involved in any riots or violent activity while travelling.
What you should do: If a riot or another violent event occurs, avoid the area in general to the best of your ability. If you find you are staying in the midst of a riot area, do not leave your hotel. If you cannot return to your hotel room due to a riot, call law enforcement and find a safe area to stay while the riot is being taken care of.  
Tip: Check Smartraveller before you leave home for any riot/violence warnings. Also, make an effort to stay on top of local news/movements while travelling, especially in countries where unrest can be common.
Pre-paid activities, sports or tours are cancelled
In many occasions, we have been disappointed when our activities are cancelled because of the weather or emergency situations. You may be eligible for refunds on pre-paid activities with your specific travel insurance policy in the event of cancellation due to the fault of the operating company  or other extenuating circumstances such as weather.
What you should do: Make sure you obtain written confirmation of the cancellation from the provider to include in your claim in order to be reimbursed for the cancellations.
Tip: Make sure any activities or sports you choose to partake in are covered by your individual policy. All activities must be run by a legitimate and licensed operator to be eligible for cover.
You want to rent a vehicle
Sometimes, the ease of self-driving can be more beneficial than taking public transport while overseas. You may want to rent a car overseas to avoid taking public transport or high-costs for taxis or personal drivers (Uber, Lyft or private driver).
What you should do: Check that you have the right insurance coverage (including the rental excess waiver) and the correct driver's license or International Driving Permit.
Tip: Become familiar with the terms and conditions listed in your rental contract and pay attention to road rules that may slightly differ country to country.
You decide to be spontaneously adventurous
Participating in adventurous sports and activities overseas can be loads of fun and can be the factor that changes a good vacation to a great vacation. However, there are various risks that come with these activities. Whether you decide to take a dip in the ocean to snorkel or scuba dive or go up to the mountains to enjoy a fun ski or snowboarding trip, you may be prone to various risks including injuries and should make sure you are covered by travel insurance in the case that something does happen. Remember, medical costs are generally a lot higher when you are traveling out of country. 
What you should do: Make sure that your new activities are all covered under your travel insurance package.
Tip: Don't engage in any sports or activities unless they are organized by a certified, licensed and legitimate provider. If not, your insurance may not cover you if anything goes wrong. 
Do you have any additional questions about how to handle a travelling problem or incident? Call your insurance carrier or call us at (415)-386-2283! 

Via: InsureandGo
All images from Google
Contributor: Smruthi Sriram